Comparing the main types of food delivery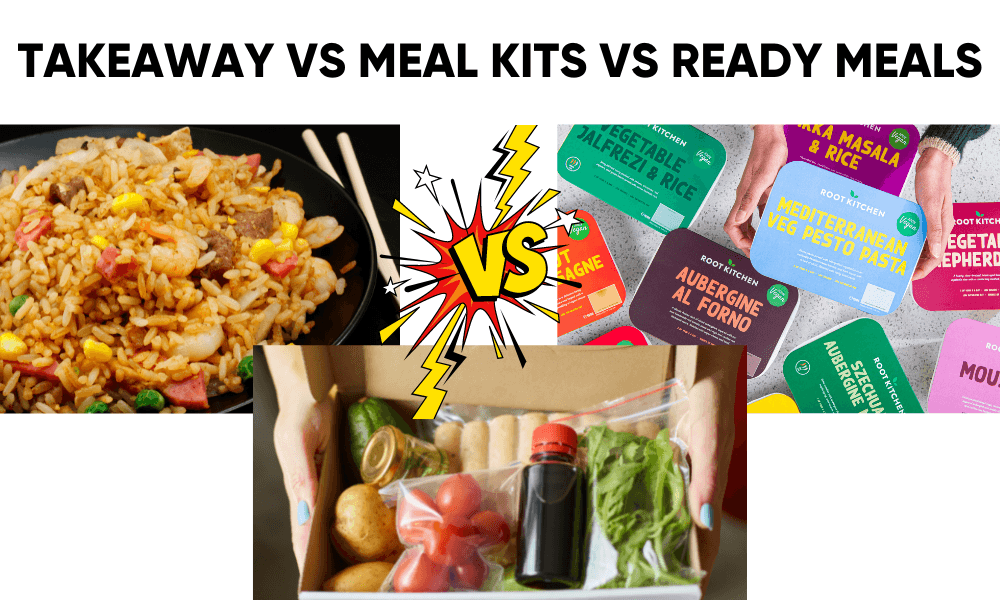 Introduction
As our lives get busier we turned to three ways of dealing with saving time in terms of food. These are takeaway, meal kits and ready meals.
In this article, we'll compare these three options in terms of price, quality and well-being, convenience, sustainability and taste.
Meal Kits, Ready Meals & Takeaways
Takeaway food delivery is carried out by apps such as Uber Eats, Deliveroo and Just Eat and it is has become an extremely popular option for people looking for a quick restaurant-quality meal, delivered within the hour and usually within 30 minutes.
Meal kit delivery is a fairly new concept in which usually you order certain recipes and get delivered a set of prep-portioned ingredients and instructions, so that you prepare the meals yourself. Well-known examples of meal kit companies are Hello Fresh, Gousto and Mindful Chef.
Ready meals have been around for a long time; supermarkets have always had a ready meal section. However, in recent years many more options and type of ready meals have started gaining popularity online. There are healthy ready meals or ready meals for certain dietary requirements and in the fitness world, meal prep meals have become the go to for sticking to a certain diet and reach a fitness goal.
So if you want to order food online, it looks like these are the 3 main option, but which one is better in terms of prices, health, convenience & sustainability?
We started off with takeaway delivery with JustEat, the choice was limited & the kebabs were alright but deliveries were not always on time & customer service wasn't the best.
We then enjoyed higher quality restaurant meals & better customer service with the arrival of Deliveroo & UberEats. The choice became better and more and more people turned to food delivery for getting their meals in.
And then?
Then we discovered that these options are expensive. So are ready meals the answer?
1. Price
For takeaway deliveries you're charged restaurant prices, actually Which? Found that Deliveroo orders cost an average of 31% more than ordering directly!
Then you've got on top of that various add-on fees such as delivery fees & service fees.
If you order takeaway on a regular basis, then the prices & fees stack up.
Meal Prep kits definitely cost less than takeaway. Gousto's meals depending on the quantity cost roughly £5-6 per meal which is considerably lower than a takeaway order averaging at roughly £15-20 depending on the takeaway delivery app.
And then we've got ready meals. Ready meals are in a way like takeaway meals in the sense they're full prepared, however they are generally not to be consumed immediately but reheated if need be.
Because of many reasons ready meals prices are much lower than restaurant prices, most ready meals cost about £6-7 per meal which is just above meal kits.
So in terms of prices, meal kits are the most affordable option as they require the consumer to actually cook the meals. In terms of prepared meals, ready meals are cheaper than takeaway and both prepared meals lead to energy and water savings due to the lack of the need to use electrical appliances extensively and wash up. On the other hand, meal kits will increase your bills and will require you time to cook (and some say time is money)!
2. Quality and well-being
This is clearly the aspect which is most variable depending on each individual company within each of the three categories.
Ultimately, a food is healthy if it brings you closer to a balanced diet.
So which of these food delivery options is likely to bring you closer to balance?
In general takeaway is known not to use the highest quality ingredients and to contain unbalanced macros. Takeaway is usually rich in fat and carbs, thus for most people living in Western societies, this will lead to an intake imbalance.
Meal kits are usually made to include veggies and to be balanced. The ingredients are usually good quality and fresh. You can't fault it too much.
Ready meals, of the kind that you get delivered to your home and which are health & fitness oriented truly excel in this aspect as oftentimes their primary objective is actually to provide a balanced diet.
3. Convenience
What is convenience? The premise of this article is that our lives are getting busier, so the point here being that the option needs to save time & effort.
Takeaway is pretty easy. You order it on the app of choice and get it delivered usually within 30-60 minutes. You just need to order a bit in advance then your meal time and you are set.
Meal kits are packaged conveniently as they usually provide pre-portioned ingredients and provide instructions as well on the recipe. There's cooking & washing up involved, but other than that in 15 up to 45 minutes, meal's ready!
Ready Meals seem to excel here as well! For the most part you get only one delivery for the week, once those meals are in your fridge or freezer you just need to take them out and in 5/10 minutes, meal's ready! The time & effort savings here are significant, however perhaps the only flaw is that you need to carry the meal with you at work or wherever you go if you are going out.
4. Sustainability‍
Takeaways utilise a ton of single use packaging & cutlery which gets thrown away in the span of just over one hour once the meals have been delivered and eaten! The deliveries themselves, even though some are on bicycles, most are done by cars and motorcycles which do short trips which are really not the best in terms of emissions.
Meal Kits also have the flaw of single use packaging but deliveries are usually done in bulk by large delivery companies such as DPD thus sharing the emissions with the other parcels, thus saving on overall emissions against takeaway deliveries.
Ready Meals are also usually packed in single use packaging, but perhaps not as necessarily as meal kits. Also Ready Meals are delivered in bulk in the same way as Meal Kits, at The Meal Prep Market we deliver the meals in bulk with our vans as much as we can. What we do on top at The Meal Prep Market is that our vans are refrigerated, and thus the boxes do not require insulated packaging & ice packs, therefore there are some savings in those terms against Meal Kits.
5. Taste
The most subjective aspect of the lot, but in the end we are talking about food.
What has to be said is that of course in this aspect the results really vary from restaurant to restaurant very wildly, and perhaps on a slightly lesser extent in terms of meal kits and ready meals as well.
Here however it seems fair to give the win to takeaway, because we all like a cheat day once in a while.
However, meal kits and ready meals are getting better and better every year as technologies and the companies grow & get better.
6. Summary
In the end, all 3 options have their own pros and cons. In the world of food, there is no one size fits all.
In terms of a long-term solution, it looks like ready meals are best because prepared meals are more affordable than takeaway whilst promoting responsible eating.
If you truly enjoying cooking your own food, then meal kits may be for you. However you may find that you enjoy preparing your own recipes, but if you are not experienced in cooking then meal kits may be a great option for you.
If you are somebody who likes to enjoy a Netflix session on a late Saturday night, then of course a takeaway pizza or a curry is going to be the most desirable option and here takeaway is clearly the best option.
If you'd like to order Ready Meals, I'd encourage you to check out our mobile app The Meal Prep Market. On the app you can order from a selection of the best ready meals providers in the UK!