Top 5 Reasons to invest in The Meal Prep Market! Should I join their crowdfunding campaign?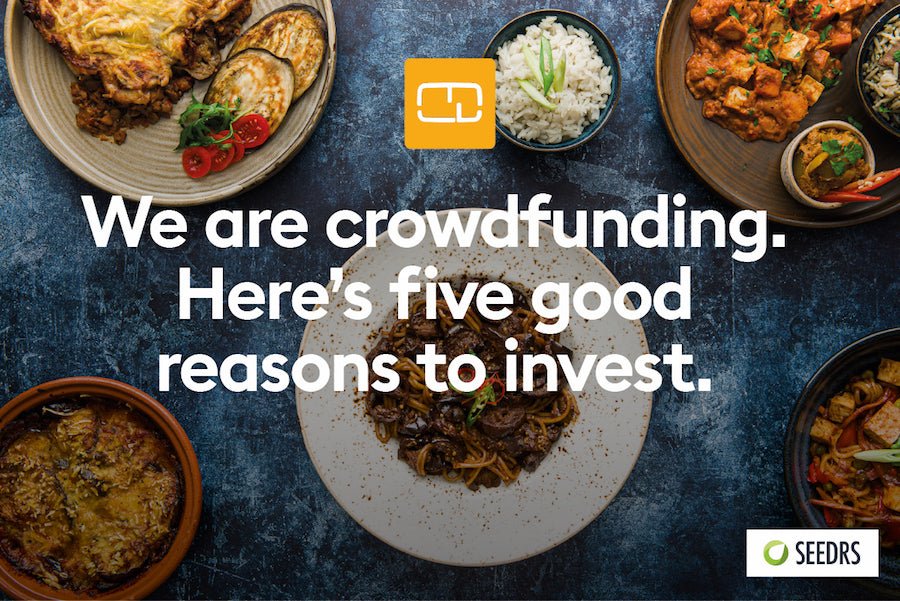 Whether you have been following us from the start or you have recently joined, now's your chance to be part of the The Meal Prep Market family.
Read on for five reasons why you should invest in The Meal Prep Market and check the opportunity on the Seedrs crowdfunding platform. We are already funded at 62% and there is limited equity available, so it's good to get in not too late.
In last week's blog, we went through what crowdfunding is and why at The Meal Prep Market we opted that it is the perfect next move in our journey. Today, we'll actually go through the question: "Why should I invest in The Meal Prep Market?"
Specifically, we will be providing you with our Top 5 reasons to invest in The Meal Prep Market and why we have picked each reason.

But first remember:
Don't invest unless you're prepared to lose all the money you invest. This is a high risk investment and you are unlikely to be protected if something goes wrong. Take 2 mins to learn more.
General Benefits of Investing
In this unprecedent period of high inflation in the UK economy, saving is actively losing you money as the real value of your cash decreases as prices increase in the economy. To 'protect yourself against inflation' you will need to invest but no investment is made equal and there are many kinds or categories an investment falls into and each categories carries its own level of risk and return.
Benefits of investing in startups
Investing in The Meal Prep Market falls into the category of investing in startups and there are great benefits into doing so. Investing in startups is really attractive to many investors (large and small, corporate or retail) because it is generally more exciting.
This is because investing in a startup has 2 main characteristics. One is that a startup is a smaller team than large companies and so by investing you will need to invest much less to be more impactful, involved and to 'get to know' the company on a more direct and personal level.
For instance, if I were to buy £50,000 worth of Meta shares on the stock market today, no one at Meta would reach out to me at any point in my investment. Whereas if I were to buy £50,000 worth of The Meal Prep Market shares, then things would be very different as I would own a much higher % of the company which has various benefits itself.
I'd also be making my investment on a private market (such as Seedrs), I would also get things like a pitch deck, I would receive a newsletter, I may be invited to events, I may get perks such as discounts and so on. Due to the earlier stage that inherently comes with startups, it provides potential for a great 'upside' which is jargon for a positive return on your investment, so essentially it refers to the increase in the value of the shares thus increasing the value of an asset you own which when it comes to selling would basically generate you a good profit.
Secondly, another big reason for investing in startups is that it is central to the economy and thus the government does its best to incentivise investment in startups, therefore investing in startups can lead to tax benefits such as SEIS and EIS. As we will see in reason #4 The Meal Prep Market at the time of writing this article has fully available SEIS which is great for UK investors as we shall see in that section.
What is The Meal Prep Market? What does it do?
Before going into specific reasons, let's assume you do not know anything about The Meal Prep Market. So what is it and what does it do? The Meal Prep Market is a mobile app and a marketplace platform to order from healthy ready meals provider. It acts as a tool to find, filter and order meal prep and healthy ready meals from UK's best providers.
Meal prep and healthy meal delivery is a concept that is really new. Sure, ready meals have been around for a long time on supermarket shelves. However, the really exciting part of the sector is that these meals are made on demand and made to order, thus these meals are able to not contain the additives and preservatives which are in common in supermarket ready meals.
Furthermore, in the last few years there have been loads of
After this introduction, let's now jump to 5 reasons to invest which are fully specific to The Meal Prep Market.
Reason #1 – Team
When a business is early stage, what many investors consider to be the most important thing to consider is the team. Does it have what it takes to grow the company?
Even though The Meal Prep Market is a team of just 5 people, we are incredibly diverse in terms of age, background and skills. In this team there are 3 different nationalities, 5 different age groups and 5 completely different backgrounds and careers.
CEO Abhimanyu was born in India, COO Nick was born in Italy, our nutritionist Rory and our Marketing Manager David was born in the UK. Even our consultant, Wojtek, was born in Poland.
Mainly we all have had a very different career. Abhimanyu has worked in tech companies developing software and mobile apps, Nick has worked his whole career in various food companies, Rory has had a background in nutrition and even has had his own CBD startup, Tahlia has a large following of over 350k followers on Instagram as well as having worked with UK's top companies and influencers in the fitness industry and David has had a long career as a video maker, graphic designer, Head of Media and Creative Director.
As a result, everyone of us also has a different skills set and are experts in their own field. As startups require small teams, we believe that does not stop us from covering the great majority of the skills needed at The Meal Prep Market. Our team is ready to become the core team which will be
Reason #2 - Technology
The second reason to invest in The Meal Prep Market seems fitting to highlight something that's central to The Meal Prep Market, its technology. The Meal Prep Market, though it operates in the food sector, is ultimately a tech company. This is because The Meal Prep Market does not make food, it is not a logistics company as it does not deliver food, but is rather a mobile and web app providing a marketplace service.
Selling services as opposed to selling physical products usually has a higher profit margin but we'll go to the specific in the next reason. Technological services mainly have the benefit of being more scalable than other kinds of services of sale of physical products. In the case of The Meal Prep Market, the technology development has been led by the CEO Abhimanyu Singh who is an experienced software engineer who has developed in his time countless mobile applications and has been involved in startups before.
The Meal Prep Market technology is fully custom and it not only includes the customer mobile application and the Shop website but it also includes:
- Web Portal Backoffice
- Web Portal for our Partners
- Mobile App Portal for our Partners
The technology not only allows a bespoke customer experience specific to healthy ready meals and its customers, but also allows our partners to easily list on the The Meal Prep Market marketplace as well as manage orders and manage their menu real-time.
Reason #3 - Profitability
In recent times, investors have started to look less at growth potnetial and have started to look more at profitability of companies they invest in.
Similar companies to The Meal Prep Market, such as food/takeaway delivery apps, even though they've grown to massive levels, are still strugggling with profitability.
Even though The Meal Prep Market has a similar business model that's commission based just like those food delivery apps, The Meal Prep Market has a cleaer path to profitability because:
Firstly, as opposed to takeaway delivery apps, The Meal Prep Market has much lower costs due to not having a delivery infrastructure. Healthy ready meals are shipped nationwide and so immediate and local delivery does not make sense with ready meals as it does with meals delivered from a local restaurant. The ready meals are delivered chilled or frozen and so do not need to be delivered and consumed right away. Furthermore, the purpose of meal prep and ready meals is to plan out your week and so you are not ordering because you're impulsively hungry now, but rather because you are looking to get ready for your week ahead and so delivery can be fulfilled in a few days. And this brings us to the second difference.
Secondly, because ready meals are ordered in bulk (at least 5 or 6) per order, the average order value of The Meal Prep Market is much higher, thus increasing revenue.
Another factor which will help with The Meal Prep Market profitability, is that we have built our own technology and so that will save us money in the long-run as we do not need to stay stuck in subscriptions with website hosts and such.
Reason #4 – Scalability
Given, healthy ready meals cna be shipped UK nationwide, we already have that scalability enbled for establishing in the UK. As we grow, we will also not have a proprtional increase in costs as our infrasurcture will not nee to scale as much as for instance a business manufacturing physical products which may need to purchase a new factory and so on.
In ur roadmap, we definitey have plans to eventually launch globally in countries where healthy ready meals delivery is even more popular than in the UK, so countries like the US, Germany, Poland and so on would be great countries to expand to and again because of the lack of need of a physical infrastructure, launching in these countries will not be as expensive and resurce intensive.
Reason #5 - SEIS fully available
Hopefully the 4 reasons above have convinced you about our business model and vision, however as a 5th reason is a bit of a different one. As we are early stage and have been bootrspping wiht our own lifes' svaings, we actually have a full SEIS allowance available at the time of writing this.
SEIS is a scheme by the UK government which provides various benefits to the investors in SEIS companies.
5 Bonus Reasons (The Subjective Side)
It's all well and good to invest in a company because of solid and pretty 'objective' financial and operational fundamentals, but it's also important to consider more subjective, ethical and more personal reasons, especially if you're not an experienced investor.
So why should YOU invest in The Meal Prep Market as one of our valued customers?
Reason #6 To Be First
The Meal Prep Market is the first online marketplace to bring the healthiest, most nutritious prepared-meal vendors in the UK together in one place online. Making it easy to fulfill your meal prep needs.
Reason #7 To Be Healthy
Conventional ready meals are typically full of questionable ingredients, preservatives and high in sugar.
The Meal Prep Market is different. We have a strict vetting process to ensure that all the meals on our menu contain the healthiest ingredients and most beneficial macronutrients, minus the bad stuff.
Reason #8 To Be Confident
Our App has been downloaded by over 2500 people, and our marketplace hosts over 200 meals from 15 different vendors. We might still be small, but we're growing fast.
With your support and investment, we can grow further. Investing in our team, new features and our marketing will help us reach even more customers.
Reason #9 To be Smart
As a business we aren't just about cutting calories, or carbs. We're about making healthy food as easy to order as fast food. With no delivery or operational overheads, we're also lean cost-wise. Which will mean more profit for our investors in the long run.
Reason #10 To Be Empowered
If you love healthy meals delivered to your door, and healthy returns on your investment. The Meal Prep Market is an authentic, health conscious business, empowering people to eat well and lead healthier lives. Invest when our campaign launches in the coming weeks.

Investing involves risks, including loss of capital, illiquidity, lack of dividends and dilution, and should be done only as part of a diversified portfolio. Please read the Risk Warnings before investing. Investments should only be made by investors who understand these risks. Tax treatment depends on individual circumstances and is subject to change in future. Seedrs or the fundraising business do not make investment recommendations to you and any investment decision should be made on the basis of the full campaign. No communications about any campaigns on Seedrs you receive from Seedrs or the fundraising business, through email or any other medium, should be construed as an investment recommendation.
This blog post has been approved as a financial promotion by Seedrs Limited on 19/12/2022.

Seedrs Limited is authorised and regulated by the Financial Conduct Authority. Seedrs Limited is a limited company, registered in England and Wales (No. 06848016), with registered office at Churchill House, 142-146 Old Street, London EC1V 9BW.