How To Meal Prep on An Atkins Diet?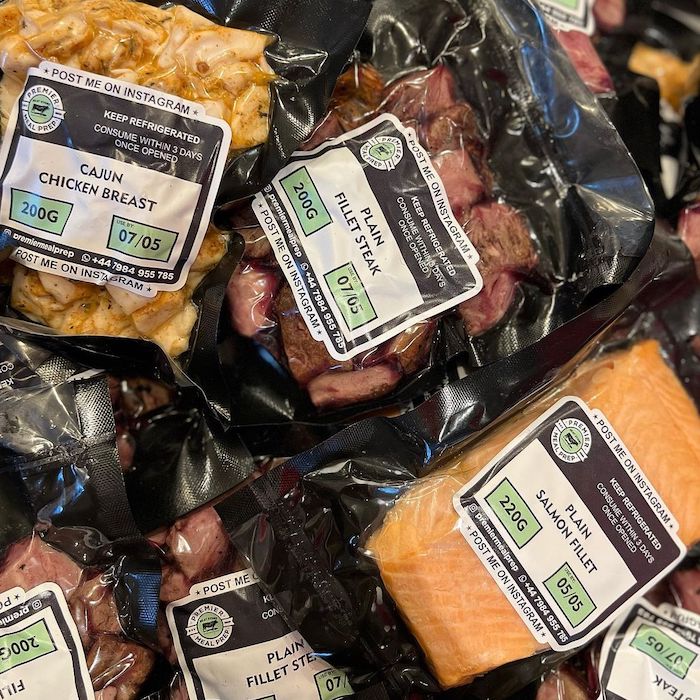 The Atkins diet can be a safe and healthy way for losing weight while eating some of the most delicious foods on the menu! This is because thie diet is really permissive and even encouraging in terms of consuming fats and proteins.
Read below to discover all about how to meal prep on an Atkins diet!
What is The Atkins Diet?
The Atkins diet is a low-carb diet that includes nutrient-filled meals loaded with protein and high-fat foods. Yes, you heard it right, your favourite foods may be back on your menu!
Here's how the Atkins Diet work and how you can meal prep for it.
You know that your body prioritises burning carbs for energy, right? When on an Atkins diet, your body gets limited carbs and has no choice other than burning fat for energy as fuel. As a result, you burn more fat which ultimately helps you reach your bodyweight loss goals.
A 2003 research proves that a low-carb diet is more successful for weight loss than a low-fat diet. [i]
Moreover, the Atkins diet isn't just about losing weight. According to Mayo Clinic, the Atkins diet prevents developing serious health conditions such as metabolic syndrome, diabetes, high blood pressure and cardiovascular disease.
The 4 Phases of the Atkins Diet:
According to research, the Atkins diet contains four phases:
1. Introduction
Eat high-fat, high-protein meals low in carbs, such as leafy green (salads) to trigger sudden weight loss. Keep your carb intake as low as 4 grams.
2. Balancing
Keep eating the same low carbs meals as before. However, you can now add nutrient-rich carbs such as fresh fruits, nuts, and seeds.
3. Pre-Maintenance
In the third phase, you'll start expanding your range of foods and carbs bit by bit (10 grams each week). Add some fruits, starchy veggies, and whole grains to your diet.
4. Maintenance
Lastly, when you reach your weight loss goal, drop the diet and only eat healthy carbs (40 to 60 grams) for the rest of your life to maintain that weight.
What to Eat on An Atkins Diet?
A verified case of 40years old obese woman shows that she was strictly given instructions to follow the Atkins diet to save her health as she was suffering from shortness of breath and severe nausea. She only ate cheese, meat, and salads for a month and lost 9kg or 20 pounds. [ii]
Atkins diet meals menu often looks like something too good to be true!
Below, you'll find out how to meal prep on an Atkins diet because all your favourite foods are waiting for you to make an order!
Greens
In the Atkins diet, low-carb veggies are suggested to eat as much as possible. Foods such as asparagus, lettuce, broccoli, kale, celery, spinach, cucumber, green beans and peppers are your best picks!
You can order multiple ready-made salads that include these vegetables, such as Cesar salad, leafy green salad, Greek salad, Fattoush salad, etc.
Eggs? Eggsactly!
Eggs are a basic stable of healthy weight body. They are full of protein and provide adequate levels of satiety.Researchers did a crossover study in 2020; 2 groups were fed different breakfasts. One with egg and bread, the other with milk and cereal.The sensation of hunger was less in the group of egg breakfast. [iii]
Having meals that include eggs will keep you full and lose weight simultaneously. You can order ready-made egg meals such as scrambled eggs, egg soup, omelette, fried egg with noodles, and egg and cheese sandwiches.
Meat
Who doesn't love meat? They can be versatile, tasty, nutritious, and whatnot?
From breakfast bacon, and chicken sandwiches in lunch, to grilled turkey for dinner, meat got you covered!
Research suggests eating a diet that contains meat as adequate consumption of high-quality proteins significantly leads to optimal growth, development, and health of humans. [iv]
You can order steamed chicken, bacon and onion salad, roast beef, pork shoulder cutlets with asparagus salad, salt and pepper beef steak, and more. High-quality restaurants and meal delivery companies have a wide variety of menus from which you can order your favourites.
Seafood and fatty fish
Don't grab your swimsuit just now! Bring the beach to your home by ordering seafood and fatty fish for lunch and dinner.Atkins's diet is based on eating high fat and high protein meals, and seafood/fatty fish are loaded with both!
You can order your favourite shrimp pasta, sautéed wild scallops, fried honey shrimps, prawn fried rice, salmon and mayo sandwiches, king crab, roasted oysters, and fish n chips (phase 4).
Nuts? Yeah Go Nuts!
Nuts such as almonds, macadamia nuts, walnuts, and sunflower seeds are small packets packed with nutrients and healthy fats. They contain vitamin E, B group, magnesium, and selenium.
You can include your favourite nuts and seeds in any meal you like; whether the meals are savoury or sweet, nuts and seeds are always there for a good crunch!
Don't be afraid of oil
Oily isn't always greasy. Oils can be healthy, too, such as extra virgin olive oil, coconut oil, avocados, and avocado oil. If you are on a budget, great oils for cooking are canola oil, peanut oil, grape-seed oil, and coconut oil.
Is Fruit Okay?
Yes, it is. But on the 3 and 4 phases of the Atkins diet. You can have all the berries back into your life, so you don't miss important nutrients.
The best meal to eat in the 3 4 phases is high-fat yoghurt topped with roasted nuts, seeds, and fruits! With just one click, you can also get yoghurt delights prepared and ready to eat!
Moreover, fruit juice, smoothies, and fruit pies are good options.
The Bottom Line
If you're heading towards the Atkins diet to lose weight, here is a little secret between us, you're here for the food!The comfort of ordering high-fat comfort foods any time you want!
However, do look out for the carbs. This complete guide on how to meal prep on an Atkins Diet is your go-to whenever you're in doubt. Head on to The Meal Prep Market to read more about meal prepping!
The Meal Prep Market provides a budget-friendly premium platform where you can order your favourite meals allover the UK.
Visit Marvin'sDen today and join our happy food family on your Android and iOS.
References:
[i] Brehm, B. J., Seeley, R. J., Daniels, S. R.,& D'Alessio, D. A. (2003). A randomized trial comparing a very low carbohydrate diet and a calorie-restricted low fat diet on body weight and cardiovascular risk factors in healthy women. The Journal of ClinicalEndocrinology & Metabolism, 88(4), 1617-1623.
[ii] Chen, T. Y., Smith, W., Rosenstock, J. L.,& Lessnau, K. D. (2006). A life-threatening complication of Atkins diet. The Lancet, 367(9514), 958.
[iii] B Keogh, J., & M Clifton, P. (2020). Energyintake and satiety responses of eggs for breakfast in overweight and obese adults—a crossover study. International Journal of Environmental Research and Public Health, 17(15), 5583.
[iv] Wu, G. (2016). Dietary protein intake and human health. Food & function, 7(3), 1251-1265.