Is It Safe To Meal Prep Pasta? Food safety & storage techniques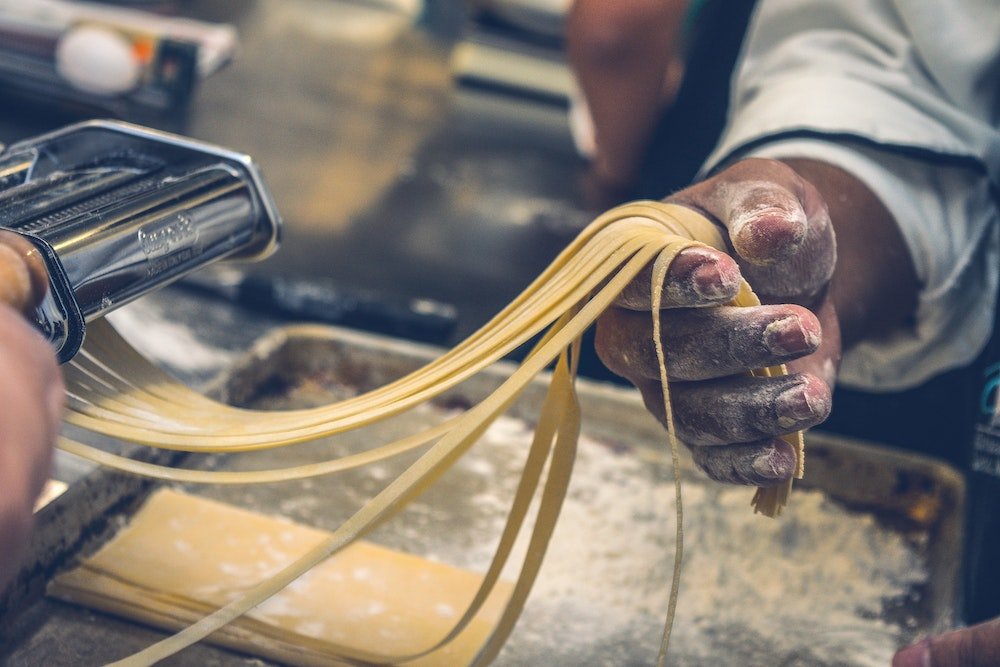 In short: Don't worry! Pasta is safe to meal prep if prepared and stored properly. And yes, you can safely reheat it when needed.
In this article, we'll provide safety instructions on storing pasta. Moreover, we'll provide you with five delicious meal prep pasta recipes.
How to Safely Store Pasta for Meal Prep
You can store pasta in the fridge for 3–5 days and in the freezer for up to 1 month, but it should be stored properly so that it does not go bad. Following are some key tricks that'll help you keep your pasta safe and healthy during storage.
Use an airtight container or zip-lock bag to store pasta for meal prep. It'll help to keep harmful bacteria in the air from multiplying.
When boiling pasta, leave it al dente, not mushy after reheating.
One important thing to ensure when reheating pasta dishes is that they can be a little dry as your pasta can soak up extra sauce during storage time. When reheating, add in some moisture elements such as water, oil, butter or sauce.
Moreover, you can also store sauce and pasta separately and combine them when needed.
Store your pasta in the refrigerator within two hours of preparation. Minimal half-hour (let it cool down) and max two hours at room temperature.
Crucial food safety tip!
Once your pasta is cooked, allow it to cool down as fast as possible. If you can, transfer it to a cool tray and spread it to increase the surface area in contact with the cool air.
Once cooled down, portion it in containers. Remember to reheat pasta only once as starchy foods such as pasta and rice can develop bacterias which create a protective shell, which will protect them from pretty high temperatures. These bacterias will start to multiply after the pasta goes back to a favourable temperature such as when you will warm the pasta for the first time.
Once reheated for the first time, make sure to consume all of it immediately. Leave any pasta you will not eat in the fridge or freezer.
Get the pasta basics done right
There are many risks involved in cooking pasta.
The first risk is that the pasta might not cook properly. For example, if you put in too much water or don't put enough salt in the water, the pasta will be very hard and difficult to chew.
The second risk is that there may be some ingredients that you miss to include in the recipe. For example, you forget to add salt in the boiling water would make the pasta taste bland. Similarly, if you put too much salt in the water, this will make the pasta not only too salty but this will be unhealthy.
The third risk is that pasta needs to be cooked for a proper amount of time. Always read the instruction on the label for a guidance time, however do always try the pasta as the time needed will be impacted by the size of the pot, the intensity of the heat and ultimately the temperature of the water.
Top Tip: If you are batch cooking your pasta, remember to undercook it slightly as it will soften a bit while being stored in the fridge, especially if it is in a moist sauce as the pasta will continue to absorb some of the water.
Is Pasta Healthy?
Pasta is placed under the umbrella of grains.
Pasta made from whole grains is actually packed with nutrients such as B vitamins, antioxidants, iron, zinc, copper, magnesium, and potassium.
However, the common stigma of pasta being unhealthy stems from the widespread consumption of heavily refined pasta which is stripped away of its nutrients.
Furthermore, pasta is often prepared in recipes that involve a lot of unhealthy fats and heavily processed sauces low in nutrients, thus leading to a high fat and high carb meal without a lot of nutritional value.
In truth, pasta can be really health if it is in a sauce rich in vegetables and with a drizzle of extra virgin olive oil which can actually aid absorption of vitamins.
Furthermore, an observational study of 23 researchers concludes that a diet filled with gains can prevent risks of developing type-2 diabetes, cardiovascular diseases, colorectal cancer, and prostate cancer. [1]
A 2017 research showed that the consumption of pasta meals was associated with a 5% rise in potassium and sodium intakes. [2]
Lastly, another study evaluated associations between pasta consumption and nutrient intake in children.
[3]The results showed that the children who consumed pasta had a better diet quality, improved nutrient intake, and lower intake of nutrients.
4 Easy Meal Prep Pasta recipes
1. Red Sauce Pasta
The red sauce pasta recipe is a classic Italian dish that can serve as a main course or a side dish.
Following are some easy steps to prepare red sauce pasta in minimal time.
Boil 1 pound of pasta of your choice
Take a saucepan and statue 1 onion, some garlic cloves and chopped tomatoes in olive oil.
Little hack: use prepped red sauce and heat it to reduce cooking time.
Mix the sauce with freshly boiled pasta and top with some dried basil leaves.
Your Red Sauce pasta is ready!
2. Fajita Pasta
Fajita pasta is tasty yet healthy. It contains protein (chicken) and vegetables such as onions, tomatoes, and lots of bell peppers.
Research also recommends eating a meal containing bell peppers containing vitamins (B, A, D, C, E, and K) and minerals (potassium, sodium, magnesium, calcium, and phosphorus) essential for optimal human health. [4]
Follow the listed steps to prepare restaurant-style fajita pasta.
Heat pepped fajita flavoured marinated chicken with prepped chopped onions and peppers in olive oil.
Sauté and add fatigue seasoning and ready-made tomato puree into the same pan
Add cream and bring the sauce to boil.
Boil pasta and mix the sauce with it. Garnish with parmesan cheese, and Fajita Pasta is all set to serve!
You can order ready-made Fajita Pasta from high-quality restaurants if you're running low on time and energy. They'll deliver your favourite pasta asap to your doorsteps.
3. Fettuccine Alfredo Pasta
Alfredo sauce is made with butter, parmesan cheese, garlic, heavy cream, and salt.However, the perfect Alfredo taste is hard to get; the mix and match of savoury, sweet, creaminess, and richness make Alfredo sauce to the point!
You're all set for a restaurant-style dinner.
You can top it with chicken breast for some extra protein (just don't tell Italians though!)
4. Lemon Garlic Shrimp Pasta
LemonGarlic Shrimp Pasta is one of the tastiest pasta that only tastes 20 minutes to get ready! Amazing right?
Take out prepped shrimps from your freezer and sauté in oil withItalian seasoning.
Take shrimps out and add butter, olive oil, garlic, red pepper flakes, and salt in the same pan. Cook until fragrant.
Mix fried shrimp, butter sauce, and boiled pasta together with an addition of a whole lemon. You're crowd-pleaser pasta is ready!
The bottom line
Pasta is a staple food for many people as it is inexpensive, versatile, and easy to make once you get the hang of it. It is safe yet needs some basic precautions.
We have an array of high-quality meal preppers lined up to deliver meal prep and ready-made meals at your doorstep. Simply download the app by clicking here.
References:
[1] Tieri, M.,Ghelfi, F., Vitale, M., Vetrani, C., Marventano, S., Lafranconi, A., ... & Grosso, G. (2020). Whole grain consumption and humanhealth: an umbrella review of observational studies. International Journalof Food Sciences and Nutrition, 71(6), 668-677.
[2] Fulgoni III, V. L., & Bailey, R. (2017).Association of Pasta Consumption with Diet Quality and Nutrients of PublicHealth Concern in Adults: National Health and Nutrition Examination Survey2009–2012. Current Developments in Nutrition, 1(10), e001271.
[3] Papanikolaou, Y. (2020). Pasta consumption is linkedto greater nutrient intakes and improved diet quality in American children andadults, and beneficial weight-related outcomes only in adult females. Frontiers in Nutrition, 112.
[4] Anaya-Esparza,L. M., Mora, Z. V. D. L., Vázquez-Paulino, O., Ascencio, F., &Villarruel-López, A. (2021). Bell Peppers (Capsicum annumL.) Losses and Wastes: Source for Food and PharmaceuticalApplications. Molecules, 26(17), 5341.