Top Techniques to improve meals that you'll have later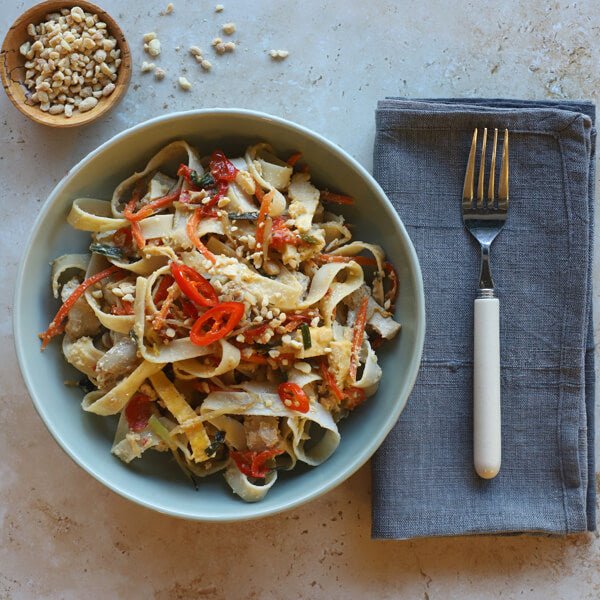 1. Moisturise your Meals
Not literally.
Unless your stomach feels a bit flaky & dry.
No, just kidding don't do that.
What we mean is that your meals will lose some water content by staying in the fridge and when you'll heat them back up.
So in order to make up for that, cover your Meal Prep meals in sauce, gravy, soup whatever - as long as it is some kind of high water content deliciousness to cover your meat or veggies.
2. Play with different textures
You don't have to go full-on Ratatouille with the textures.
However, as much as you can, make your meals heterogenous to keep them interesting to bite into more than once.
Get that crispiness, add that creaminess, enjoy the softness, play with firmness, have some chewy pieces if you're into that. There's also juicy, bouncy, crumbly and squishy.
The choice is there - take advantage of that.
3. It's always the season to season your Meals
Always season your meals, but be careful.
Due to the evaporation of liquids and consolidation of fats, food a few days later will get slightly more salty so season just enough but just less than you normally would.
4. Think International
Go outside your comfort zone, keep your taste buds excited with different spices, flavours and different ways of cooking.
Meal Prep is a great way to incorporate various cuisines into your daily routine! On the The Meal Prep Market mobile app you can find all kinds of cuisines - see what you like!
5. Be cool with cool Meals
Food doesn't need to be warm to taste good.
Sometimes you'll ruin your meals by reheating them, sometimes it's just better to enjoy them cool or closer to ambient temperature.
To get it more towards room temperature, just bring your meal out of the fridge an hour before enjoying it
6. Warm your meals differently. It's better.
If you're into warm meals, don't just feel there's just the microwave.
Use the oven to maintain that crispiness. Use your pan to add more flavour.
The microwave is good for meals like soups & stews - but not for all meals.
7. Cooking meat? Sous Vide may be the answer
Just don't use your bath's warm water. (Most) French won't approve.
Sous vide cooking allows you to cook in batches and to keep meat juicy - remember the importance of moisture for meal prep? Sous-vide will keep your meat juicy.
8. Meal Prep should be healthy, but not dull
It's good to focus on Macros, but food is not just fuel. Don't make yourself miserable and put in the effort (or let an App like The Meal Prep Market take care of you ofc).
9. Make your Meal Balanced
Nutritionally, quantity, flavour, colours, texture etc. Keep your meal varied for maximum nutritional value.
Meal Prep is a lifestyle - ease into it
In the end as all things: Don't rush it. Enjoy it.
These tips have been taken as inspiration from Tastily, which is a team of food lovers and expert chefs on a mission to make eating great tasting food easier and healthier.
Here's what they have to say about their meal prep:
Why are your meals so damn good?
Flavour is at the top of Tastily's priority list. As a team, we believe that delicious food shouldn't be kept for Friday nights, BBQ Saturdays or slow cooked Sundays. We work with talented, passionate chefs who create meals packed with flavour for you to enjoy any day of the week.
Are they good for me?
We set high nutritional standards to ensure that every dish is nutritionally balanced. This means that every Tastily meal you add to your order will have quality and seasonal ingredients, at least 2 servings of veg and contain. We also offer two portion sizes to ensure you're satisfied!
But is it easy?
All of our meals arrive fresh to your door. We're able to do this through innovative packaging that locks in freshness and flavour for 7 days.
Order Tastily now on the The Meal Prep Market Mobile App - Explore, Order & Get Meal Prep delivered straight to your door from a selection of the best Meal Preppers.
Order Meal Prep from London, Greater London, Manchester or even all around the UK!
Free Delivery
No Service or Hidden Fees
Easy-to-use app
Order tracking
Customer support
We've got it all:
Healthy Meals, Healthy Diet, High-Protein Meals, International Ready Meals, Prepared Meals, Chilled Meals, Frozen Meals, Nutritious meals, Meals for most kinds of diets, weight-loss meals, Fitness meals and more! We got Meal Prep.