I lost fat and gained muscle as a founder in just 6 weeks!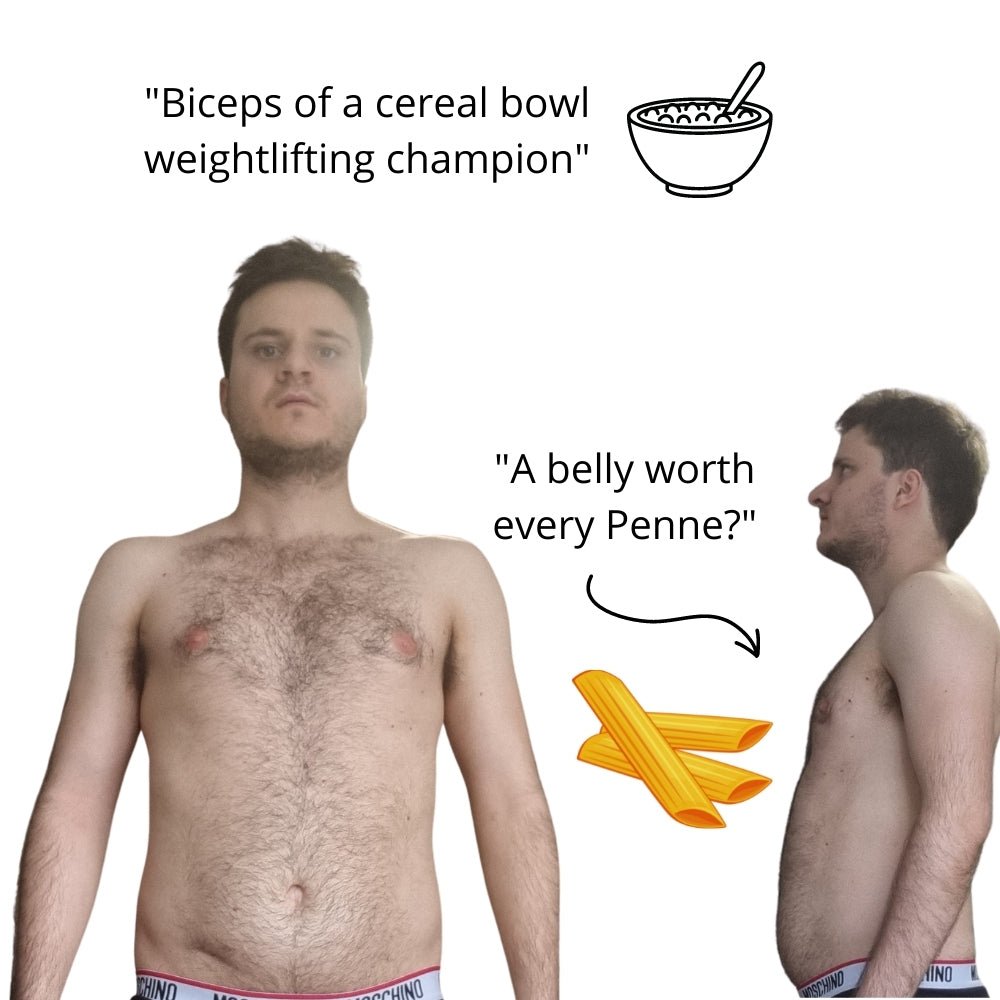 On the 22nd August, I, Nick Raimondo, co-founder of The Meal Prep Market I shared underwhelming pictures of my body in this Instagram post along this heartfelt caption:
⚠️ WARNING: This is a very different post than usual⚠️

Hi, I'm Nick one of the 2 co-founders behind The Meal Prep Market

👋Since starting our marketplace in Januray of this year, the business has done great however as the business and the responsibilities grew...my health suffered😔

Now, at The Meal Prep Market we focus on health and fitness a lot and it just feels so wrong for me to be so out of shape. There is nothing wrong with being overweight, but I'm not feeling at my best now😵

At The Meal Prep Market we also speak a big game at how we can help you lose weight quickly, yet sustainably even if you have a really busy lifestyle.Well, because of all of this, I've decided to put my money where my mouth is and challenge myself to lose fat and gain muscle in the next 6 weeks📈

*My Goal*

Lose belly fat while gaining muscle mass!
‍
My Plan
‍
My current maintenance calories are 2,450 a day. With the added workouts I'm going to do that's going to be at least 2,750.
After speaking with our in-house nutritionist Rory, I will be keeping my energy balanced, but shifting my macros to favour higher protein and fat, and less carbohydrates. This is to enable gaining muscle mass which in turn should increase my metabolic rate thus leading to losing fat.
Calories are going to come from:
• 30% Carbs - mainly to be consumed after workouts
• 30% Protein
• 40% Fats
I'm going to get all my meals from @marvinsden - in particular I'll be ordering from @kuramiuk and @outofthebox.co.uk ‍
*My workout regimen*
I'm going to be joining @f45_bermondsey in their IGNITE CHALLENGE!
So that's going to be functional HIIT training and 3 times a week!Keep yourself posted as I'm going to be sharing regular updates on the stories and see you in 6 weeks on here to unveil the results!💪
So what were the results?
Results from the front
Results from the side
Difference in 'belly fat'
The results of the challenge
I'm really happy with these results.
Not really about these stats above...
Okay these are nice to see, however not what I'm really happy about.
I feel so great that eating only The Meal Prep Market meals for 6 weeks leads to this! Not like I doubted it, but it's different seeing it yourself and on your OWN body!
Honestly, I now feel more productive at work. Meaning good things for The Meal Prep Market! Yay!
I also feel of course so fulfilled for having a goal in general! That always feels good, doesn't it? We're always so worried at the beginning of a challenge so much that we just do not start at all!