Regular price
£5.50
Sale price
£6.00
Unit price
per
Sale
Sold out
About the Butternut Squash Lasagne
This wholesome meal embodies the essence of healthy eating and is designed with your well-being in mind. Butternut squash, mushrooms, and spinach in a delicious herby tomato sauce, layered between lasagne sheets and topped with a creamy béchamel sauce. It's finished with a sprinkling of vegan cheese!
Why is this the meal for me?
Full of flavour: Rich layers of butternut squash, mushrooms, and spinach enveloped in a divine herby tomato sauce, all seamlessly nestled between tender lasagne sheets.
Creamy sauce: Our lasagne is topped with a velvety béchamel sauce, which adds a creamy touch to every bite.
Vegan cheese: To heighten the senses, we finish the dish with a sprinkling of vegan cheese, perfectly complementing the medley of flavours.
What makes this meal healthy?
Nutritionally balanced: It's a breeze to meet your daily nutritional requirements with our Butternut Squash Lasagne. Take pleasure in knowing that this hearty dish helps you achieve 3 of your 5 a day, supporting your overall well-being.
Calorie-controlled: Low in saturated fat and sugars, this meal fits seamlessly into a balanced and healthy lifestyle.
Made with quality ingredients: Crafted with wholesome ingredients, including tomatoes, mushrooms, spinach, and nutrition-packed butternut squash, our lasagne offers a generous serving of fibre and essential vitamins.
Nutrition:
| Macronutrients | *per 100g Oven-Baked | *per Meal Oven-Baked |
| --- | --- | --- |
| Calories | 94 kcal | 383 kcal |
| Carbs | 13.5g | 55g |
| Sugar (naturally occurring) | 2.9g | 11.8g |
| Fat | 3.1g | 12.6g |
| Fibre | 1.6g | 6.5g |
| Protein | 2.1g | 8.6g |
| Salt | 0.85g | 3.5g |
Allergens:
Soya.
Gluten (wheat).
Cashew nuts.
Ingredients:
Tomatoes (23%), Soya Milk (18%) (Water, Hulled Soya Beans (8.7%)), Acidity Regulators (Potassium Phosphates), Calcium (Calcium Carbonate), Flavourings, Sea Salt, Stabiliser (Gellan Gum), Vitamins (B2, B12, D2), Mushrooms (11%), Butternut Squash (10%), Lasagne (10%) (Durum Wheat Semolina), Water, Onions (5%), Spinach (5%), Vegan Cheese (2%) (Water, Coconut Oil (24%), Modified Starch, Starch, Sea Salt, Sunflower Kernel Grounded, Mature Cheddar Flavour, Acidity Regulator: Lactic Acid, Olive Extract, Colour: B- Carotene, Vitamin B12), Garlic, Rapeseed Oil, Tomato Paste, Cashew Nut Paste (Water, Cashew Nuts), Tapioca Starch, Vegetable Stock (Salt, Dried Onion, Sugar, Dried Leek, Sunflower Oil, Turmeric, Black Pepper), Salt, Sunflower Oil, Basil, Oregano, Parsley, Cracked Black Pepper, Garlic Powder, White Pepper, Nutmeg. 
Shop the Butternut Squash Lasagne now!
Experience the warmth and comfort of Root Kitchen's Butternut Squash Lasagne. Nourish your body while embracing the exquisite flavours of this carefully prepared meal. Carefully packed with love and consideration, this meal is ready to be shared or scranned all to yourself!
Minimum Order Value of £36 🍄
Share
View full details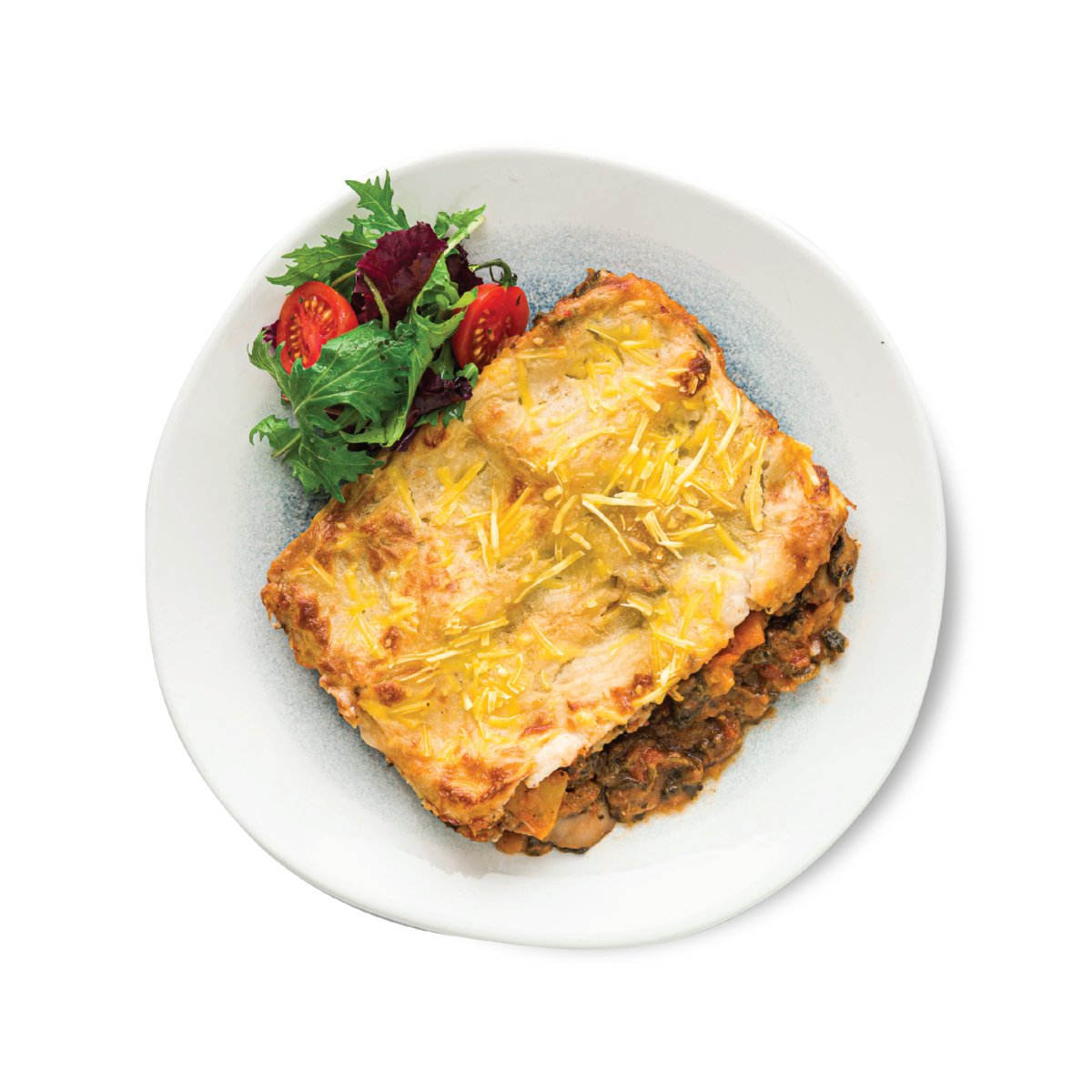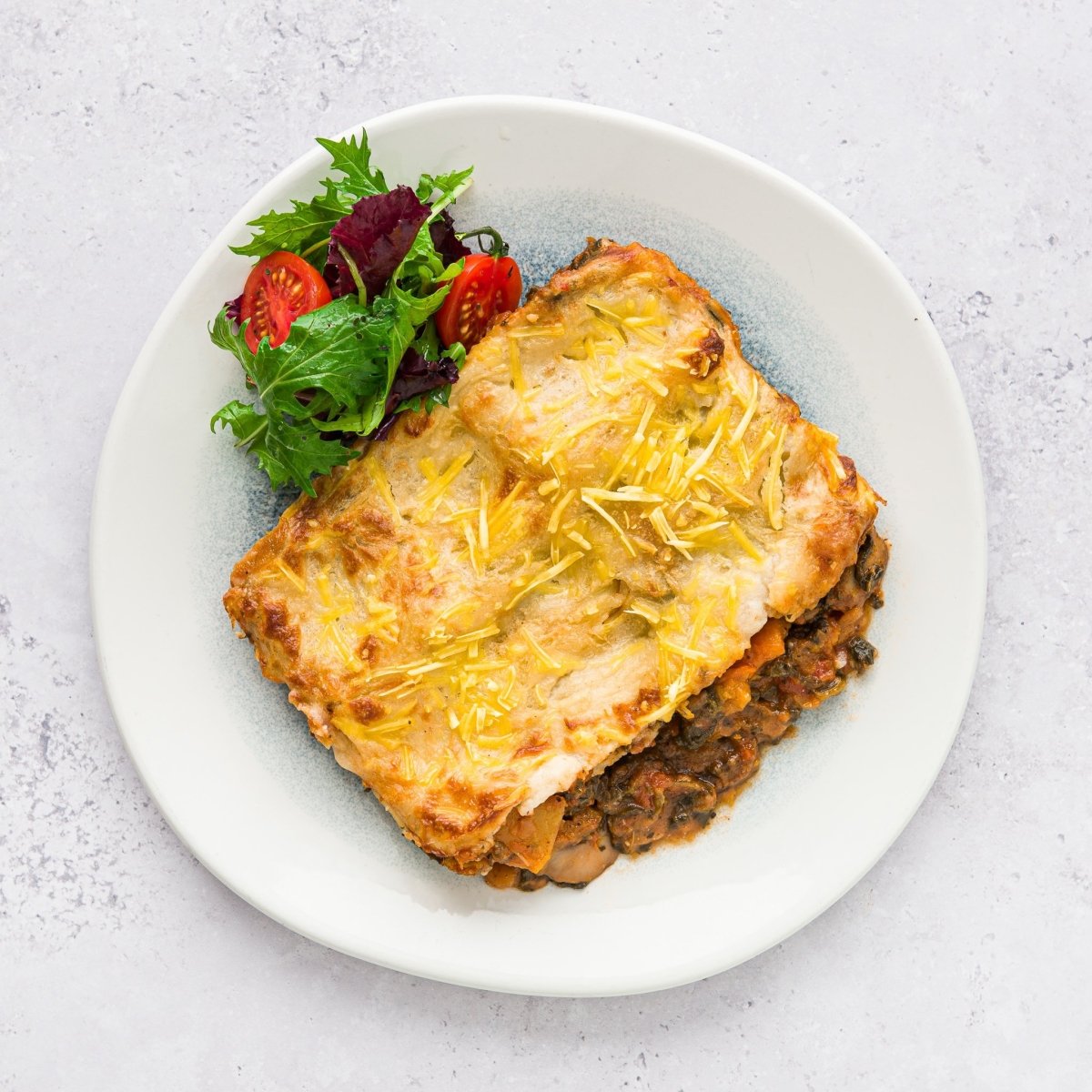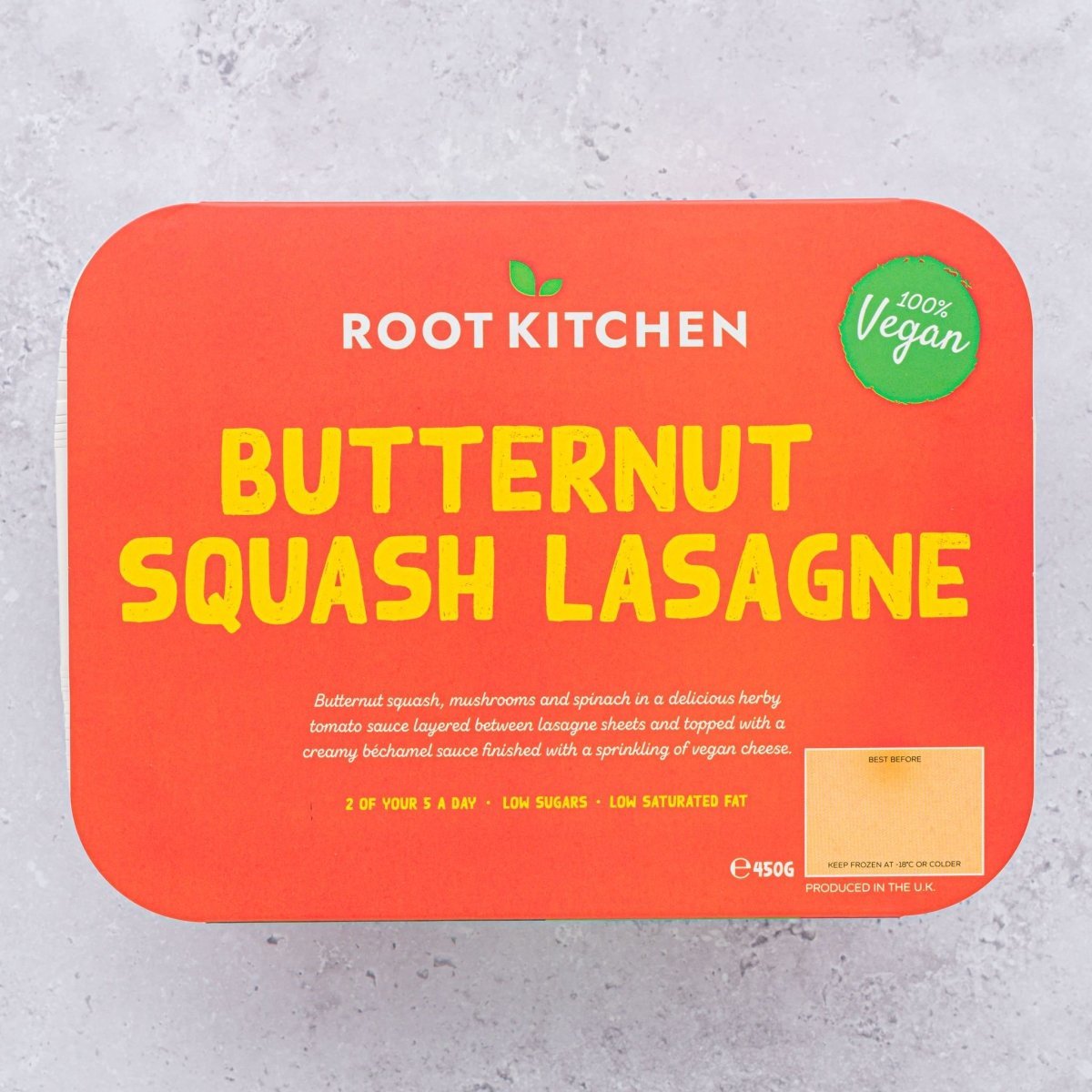 Great!!
Easy to order online and good quality food
Thanks, the team very much appreciates it! :)
Free Shipping

All our vendors offer free delivery at The Meal Prep Market! No additional hidden fees. The price you see is the price you pay, and you wont find it cheaper, even at our vendor sites.

We provide support & 3rd Party Protection

We are a neutral party, protecting and providing you with individual support for any delivery queries or issues.