Regular price
£5.50
Sale price
£6.00
Unit price
per
Sale
Sold out
About the Vegetable Jalfrezi Curry and Rice
Introducing our delightful Vegetable Jalfrezi Curry and Rice! A scrumptious concoction crafted to tickle your taste buds with its aromatic blend of flavours - it's a spicy jalfrezi curry packed with onions, chickpeas, red peppers, and green beans, served with cumin basmati rice.
Why is this the meal for me?
Conveniently portioned: This meal is thoughtfully designed to serve one, making it ideal for a satisfying lunch or dinner without any hassle.
Gluten-free: For those seeking a gluten-free option, this Vegetable Jalfrezi Curry and Rice is made with zero gluten-containing ingredients, ensuring a worry-free dining experience.
2 of your 5 a day: Packed with a variety of vegetables, this dish provides you with two of your recommended five daily portions, helping you meet your nutritional needs in a tasty and effortless way.
Low sugars: We understand the importance of maintaining a balanced diet, which is why this meal is carefully crafted to be low in sugars, offering you a guilt-free culinary pleasure.
Low in saturated fat: Rest assured that we prioritise your health and wellness. This meal is lovingly prepared to be low in saturated fat, allowing you to savour every bite without compromising your nutritional goals.
What makes this meal healthy?
Full of flavour: 

With this wholesome combination, you can fuel your body while revelling in sensational flavours. Don't compromise health for taste ever again!

Low in calories: 

Each serving provides you with 114 kcal of energy, offering a satisfying meal without sacrificing your daily calorie intake.

Free from common allergens: We understand that allergies can be a concern for many. Hence, we have taken special care to make this Vegetable Jalfrezi Curry & Rice free from common allergens such as nuts, wheat, milk, and eggs. You can indulge in this culinary delight with peace of mind.
Nutrition:
| Macronutrients | *per 100g Oven-Baked | *per Meal Oven-Baked |
| --- | --- | --- |
| Calories | 114 kcal | 435 kcal |
| Carbs | 16.2g | 61.8g |
| Sugar (naturally occurring) | 2.1g | 8g |
| Fat | 3.6g | 13.7g |
| Fibre | 2.4g | 9.2g |
| Protein | 3g | 11.4g |
| Salt | 0.43g | 1.64g |
Allergens:
Ingredients:
Cooked Basmati Rice (40%) (Water, Basmati Rice, Rapeseed Oil, Cumin Seeds, Salt, Turmeric Powder), Water, Chopped Tomatoes (12%), Onions (6%), Cauliflower (5%), Chickpeas (4.5%), Red Peppers (4.5%), Green Beans (3%), Rapeseed Oil, Tomato Paste, Garlic, Ginger, Tamarind Concentrate (Tamarind, Water), Red Chilli, Lemon Juice from Concentrate, Coriander, Salt, Sugar, Curry Powder (Ground Coriander, Turmeric Powder, Fenugreek Powder, Salt, Chilli Powder, Cumin Powder, Garlic Powder, Fennel Powder, Mustard Powder, Ground Black Pepper), Coriander Seeds, Cumin Seeds, Mustard Seeds, Turmeric Powder, Garam Masala (Cinnamon Powder, Cardamon Powder, Clove Powder, Ground Black Pepper), Maize Starch, Fenugreek Leaves, Chilli Powder. 
Shop the Vegetable Jalfrezi Curry and Rice now!
This meal is tailored specifically for you, a delicious and hassle-free dining experience. Picture a steaming plate of cumin basmati rice, perfectly complemented by a generous helping of a spicy jalfrezi curry teeming with onions, chickpeas, red peppers, and green beans.
Minimum Order Value of £36
 

🍄
Share
View full details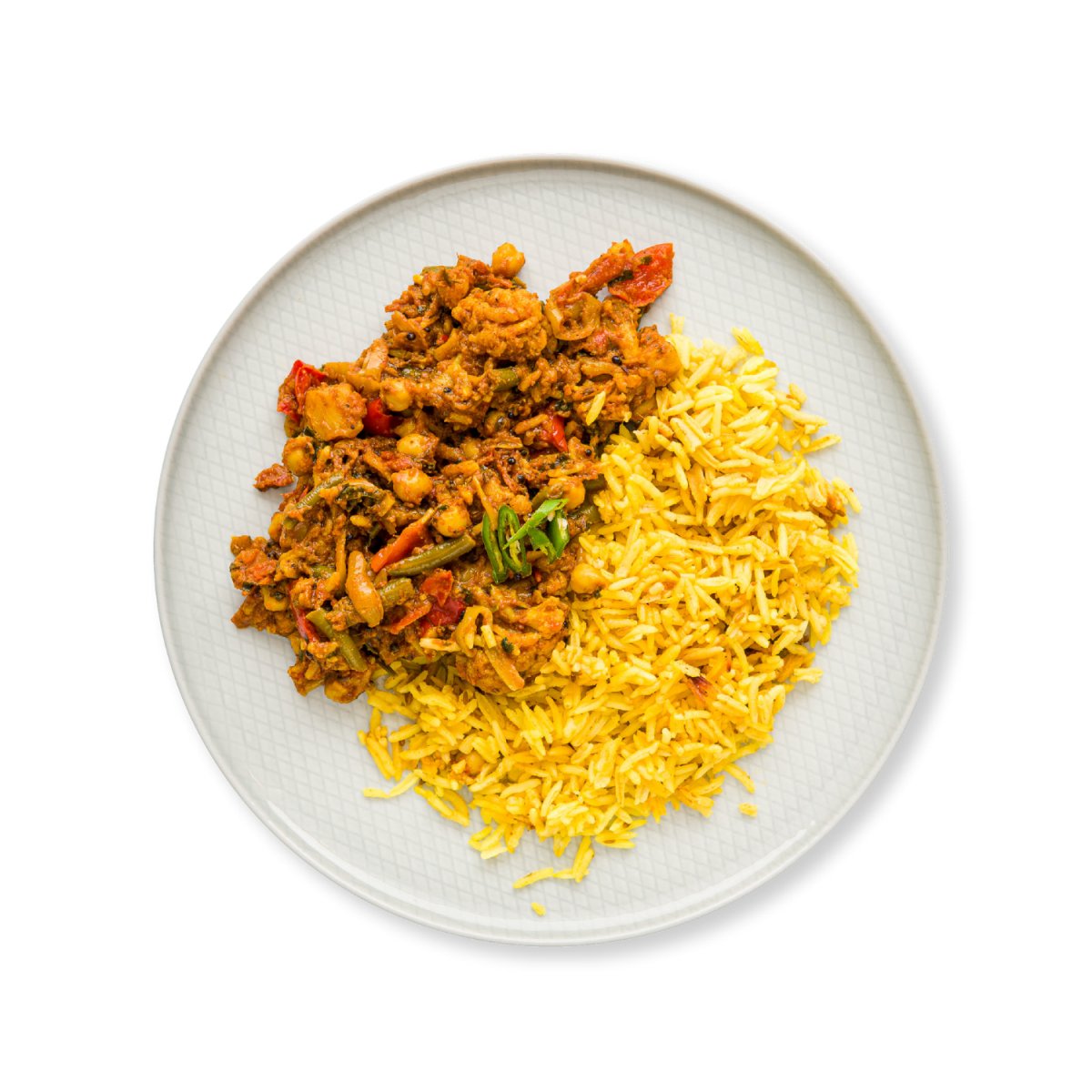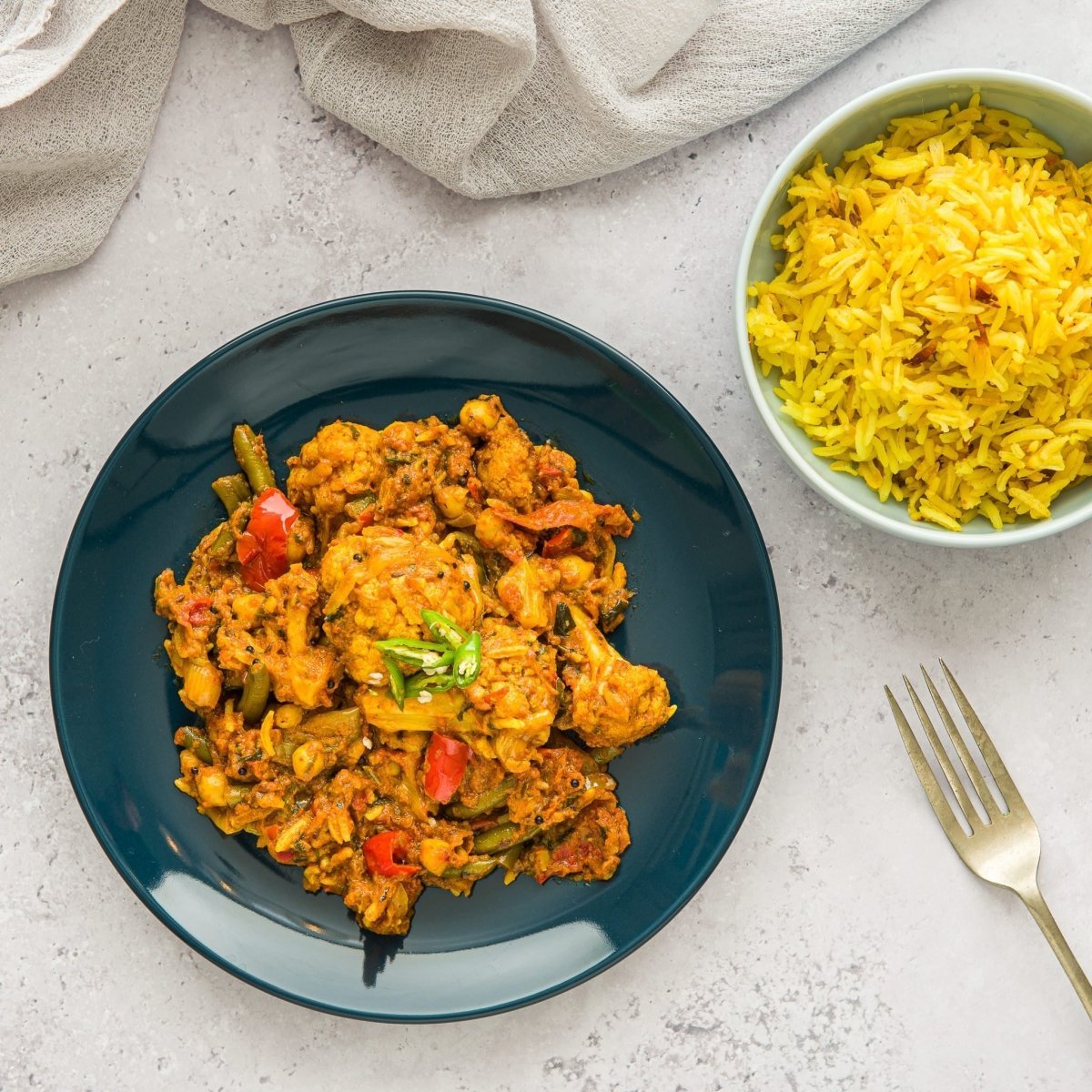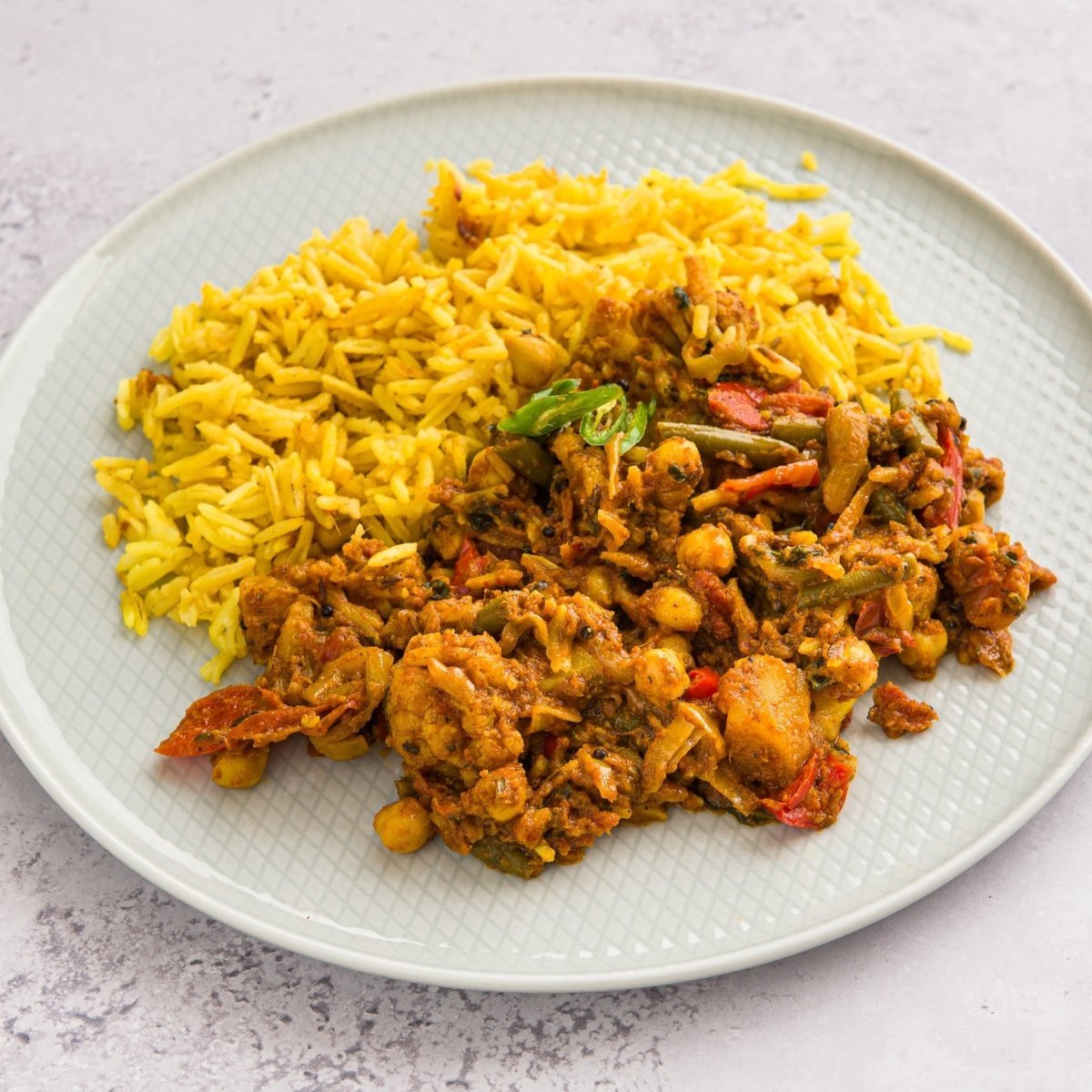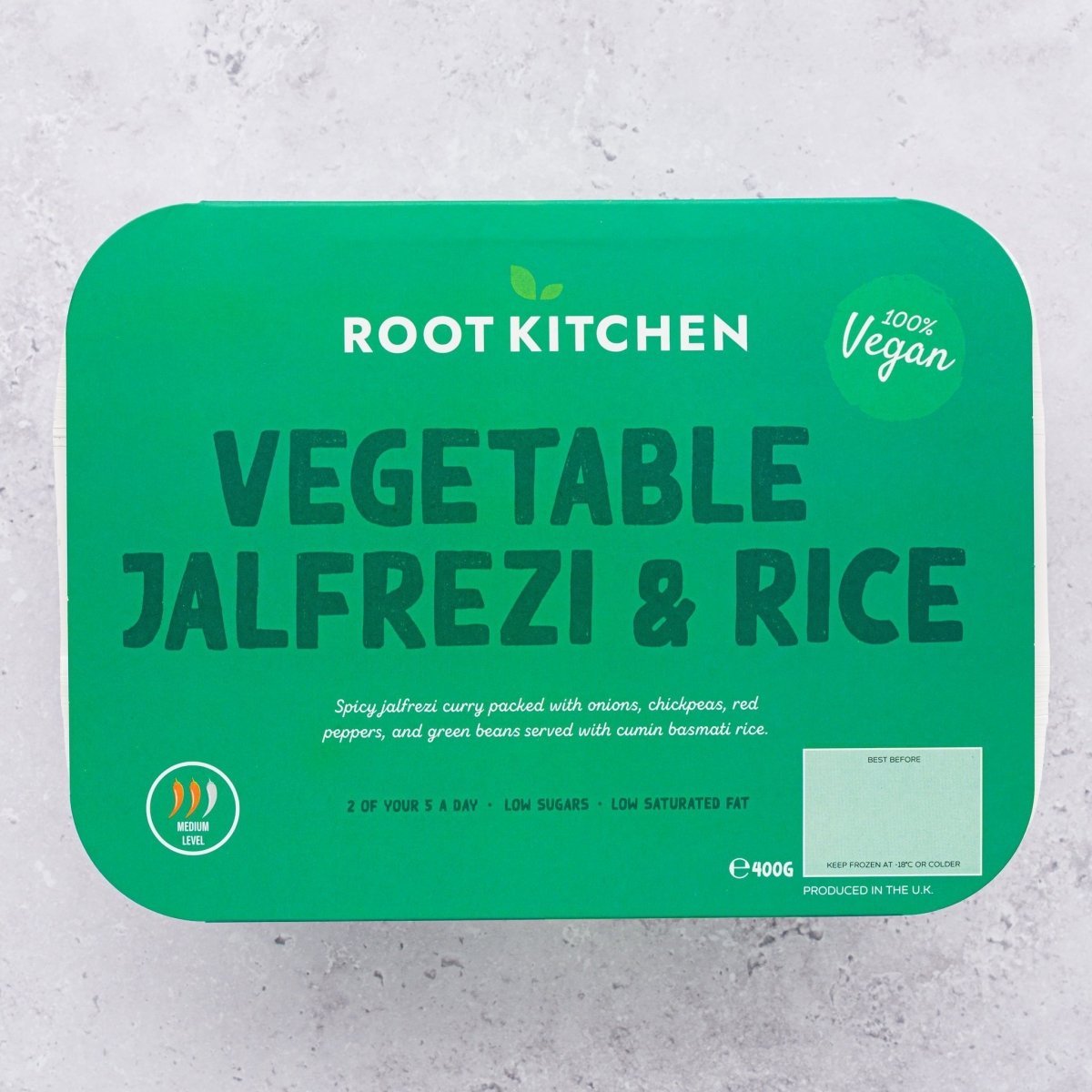 Great!!
Easy to order online and good quality food
Thanks, the team very much appreciates it! :)
Free Shipping

All our vendors offer free delivery at The Meal Prep Market! No additional hidden fees. The price you see is the price you pay, and you wont find it cheaper, even at our vendor sites.

We provide support & 3rd Party Protection

We are a neutral party, protecting and providing you with individual support for any delivery queries or issues.